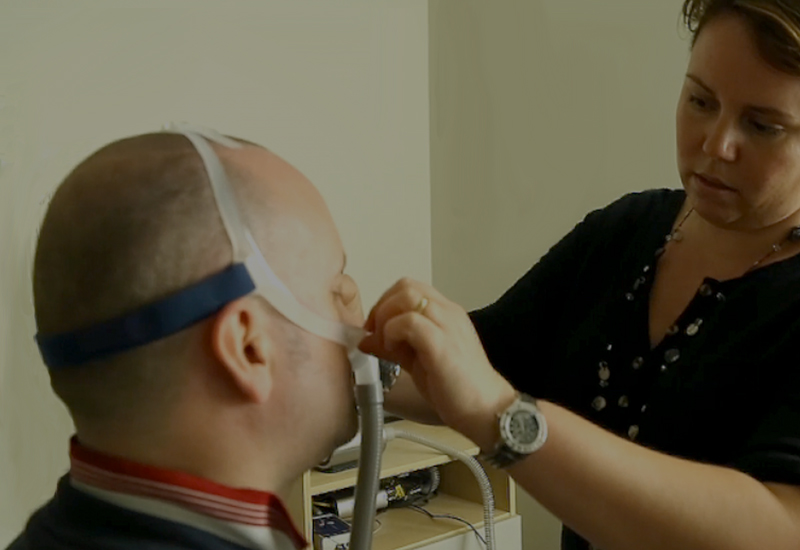 Woolcock Therapy Centre - CPAP Clinic
Continuous Positive Airway Pressure (CPAP) is a proven treatment for sleep apnea but some patients experience problems when they start using it.
The Woolcock Therapy Centre offers expert help and advice which is vital to successfully using CPAP. Years of experience give staff the knowledge to help you resolve barriers and have you using CPAP with the desired outcome – to sleep safely and wake feeling refreshed.
The CPAP specialists can work with you to quickly resolve any problems, teach you how to use the treatment correctly and advise you on masks and equipment for you.
Sleep Apnea and CPAP
When you have sleep apnea your airways repeatedly collapse while you sleep, causing you to stop breathing. When you stop breathing you are not taking in oxygen which can lead to problems such as high blood pressure and daytime sleepiness, as well as being a risk factor for heart attacks and strokes.
CPAP works by keeping the airways open while you sleep. The CPAP machine blows air through your nose and into your upper airways keeping your airways open and giving you an uninterrupted night's sleep. The air pressure from the CPAP machine supports the airway and works just like an internal splint.
NEW TO CPAP
New patients starting CPAP therapy can attend the Clinic's two-hour education session which covers:
What is CPAP and how it works
What to expect during the sleep study
How to get a CPAP machine
The follow-up process
Who to contact for help
Mask fit session and experiencing what CPAP feels like
PROBLEMS WITH CPAP
Sometimes people experience problems when starting CPAP treatment. Most problems resolve themselves as you become used to sleeping with a mask and machine, however other problems require assistance to ensure you continue using CPAP and benefit from your treatment.
Common problems with CPAP are:
Adjusting to sleeping with a mask and machine
Nasal irritation from the air blowing into the nose
Setting the air pressure correctly so you feel the benefit during the daytime
Finding a mask that is just right for you – one-size fits- all does not apply to CPAP masks
Leaking air through the mouth due to the mouth not being fully closed while you sleep
HOW WE CAN HELP
The CPAP specialists can advise you on the best mask, guide you through the initial settling-in period, resolve issues and make sure you are getting the best possible treatment while gaining confidence using the equipment.
The Woolcock Therapy Centre is designed to help existing CPAP patients who are having difficulties with their equipment to get more out of their treatment.
The Woolcock Therapy Centre is part of the Woolcock Institute of Medical Research – a leader in sleep and breathing research.
All our staff have extensive knowledge and experience in CPAP and are supported by a team of doctors who are specialists in sleep medicine.
Find out more
Book an appointment
Please complete the form below and a member of our team will contact you shortly. Alternatively, call us on 02 9805 3000. Please ensure you have a referral from your doctor. To download a referral form, click here.

Please note that the Woolcock Clinic is a fee-charging clinic and fees are charged at the doctor's discretion.
* Please note a GP referral is required
What to expect during a CPAP pressure determination study