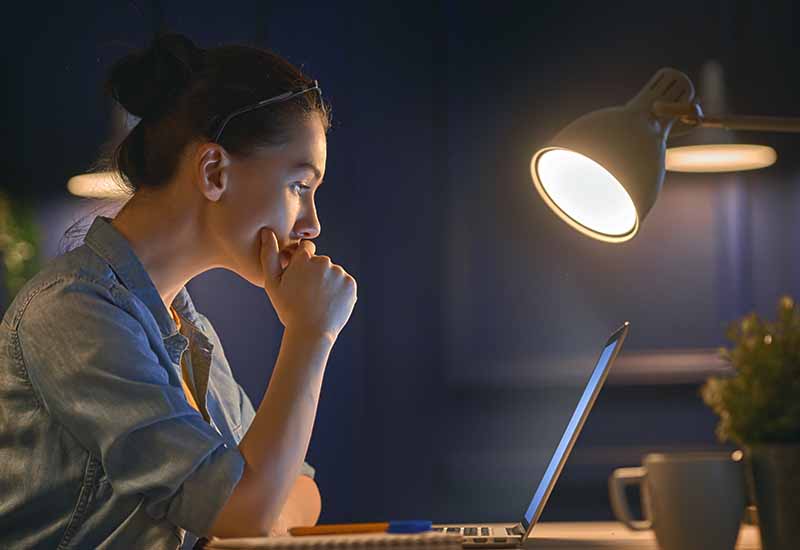 ABOUT SLEEP LOSS AND PERFORMANCE
Obtaining sufficient sleep is important for the maintenance of well-being, health and safety. In our modern 24 hour society, sleep loss is a common phenomenon due to social and family commitments and demanding work schedules. Sleep loss can occur after 1-2 days of interrupted sleep (acute sleep loss) or from long-term reduced sleep time due to family or work commitments (chronic sleep loss).
Sleep loss can also occur as a result of medical conditions causing pain, sleep disorders including obstructive sleep apnoea (OSA) and insomnia, and shift work. Whatever the cause, sleep loss may result in inappropriate sleepiness during the day and impaired performance including reduced vigilance, concentration and memory capacity. An important consequence of reduced vigilance is an increased number of "microsleeps". Microsleeps pose a real danger when driving, flying or operating machinery. A growing body of evidence suggests that sleep loss contributes to poor health outcomes such as diabetes, cardiovascular disease and possibly even cancer.
WHAT RESEARCH ARE WE DOING IN THIS FIELD?
Our research team is conducting several studies to gain greater knowledge of the impact of sleep loss and sleep disorders on sleepiness, performance and health at an individual level. Our works investigates novel ways to identify and reduce the risk of performance impairment and accident risk. Research studies use a variety of methods to measure the effects of sleep loss including questionnaires, computer-based tests of cognition and performance, and a driving simulator task. Participants are often housed in a controlled environment in our purpose-built chronobiology laboratory for several days during these experiments.
The Brain Biomarkers Study is attempting to unravel the complexities of why some individuals are more vulnerable to the effects of sleep loss / sleep disorders than others. This study uses controlled sleep deprivation to help identify and predict how different individuals respond to sleep loss. Understanding individual differences and developing novel tools to identify patients at significant risk of sleepiness-related impairment will help clinicians prioritise treatment delivery and ultimately reduce sleepiness-related accidents.
WE CAN HELP YOU
Get your sleep treated by the best at the Woolcock Clinic, a world-leading medical centre specialising in the diagnosis and treatment of all sleep and breathing disorders. Our dedicated clinicians are at the forefront of international sleep and respiratory research, ensuring our patients get access to the very latest approaches in care.

Our inter-disciplinary approach allows patients to be treated under one roof at our state-of the art facility in Glebe, Sydney.
Book an appointment


For bookings with a Respiratory and Sleep physician please click here to book a consultation. Please ensure you have a referral from your doctor. To download a referral form, click here.
If the doctor you wish to see is not listed online, please call us on 02 9805 3000 or complete the form below.
Please note that the Woolcock Clinic is a fee-charging clinic and fees are charged at the doctor's discretion.