Our young research stars managed to beat the Sydney lockdown to meet face-to-face at a June 'Think Tank' for sharing ideas and making connections.
The Think Tank gathered together early career researchers from three leading medical research institutes based in Sydney – the Centenary Institute, the Heart Research Institute (HRI), and the Woolcock Institute of Medical Research. It was organised by Drs Ong (Woolcock), Farnham (HRI) and Chiu (Centenary).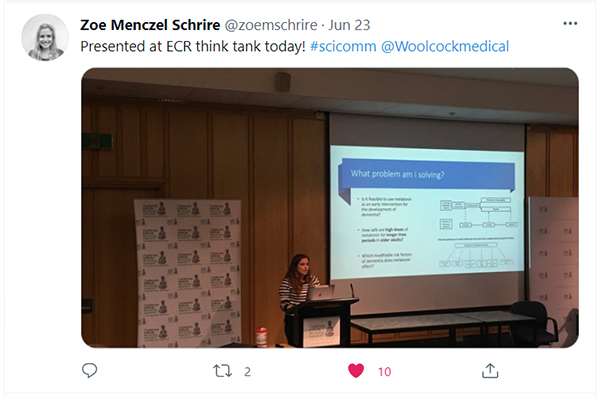 "I loved hearing what other researchers are doing," says Zoe Menczel Schrire, from the Woolcock, who presented on her research into melatonin in neurodegeneration. "The presentations needed to be short and snappy, so it was easy to understand what others were up to. And the short format really made you summarise your work in an accessible way – it was a great opportunity to practise good science communication."
PhD student Diren Reddy agrees. "The five minute time limit made the information from each talk more digestible, as speakers had to be selective about what information and technical details they could include," he says. "This ensured that each presentation's aim and focus were conveyed clearly, providing the audience with sufficient information to follow up during the breaks if they were interested in finding out more."
In all, 40 researchers presented on research into respiratory disease, sleep disorders, cancer, stroke, genetics, and more.
It was an ambitious agenda, but the "sound bite" format – presenters were given just 5 minutes! – worked well. The format made it exciting, with the focus on sharing and discussion, rather than on data and results. Audiences were interested, engaged and intrigued.
There was also time for networking, which gave researchers the opportunity to better understand the research programs of the other institutes.
Prizes were awarded to:
Diren Reddy (Woolcock), best PhD student for 'The contribution of sex-chromosome linked genes to lung pathology'.
Dr Elizabeth Cayanan (Woolcock), best early career researcher, for 'Sleep, exercise & obesity'.
Dr Christopher Stanley (Heart Research Institute), best mid-career researcher for 'Redox regulation of microvascular tone'.
Carol Armour, Executive Director of the Woolcock, was impressed by the energy in the room, and the high quality of the research work discussed. "In the midst of enormous negativity and difficulty with ongoing funding, these are bright stars who are enthusiastic about research, finding out how they can learn from others and work together to make the greatest impact with their research. Congratulations to these next generation stars."
Find out more